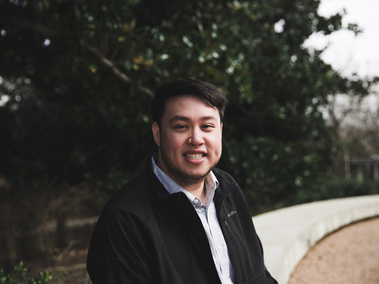 Hi, I'm James. I'm a photo-journalist and storyteller based in Houston.

I'm available for assignments, portraits, events, design and multimedia consultation worldwide. Or, just in Texas. Wherever, let's go!
I believe that moments of authentic creativity can be encounters of redemption and I'm happy you're here. Through storytelling, design and photojournalism, I seek to find and share stories that engage and inspire. I graduated from the University of St. Thomas in Texas with a B.A. in Communication and Catholic Studies.
Got something in mind? Let's chat! :)

Photo by Doug Bogan
Contact
James Ramos
832.413.3279
me@plusjames.com
Instagram: @plusjames
Twitter: @plusjames

Memberships
- AAJA
- Catholic Media Association
- Houston Center for Photography
For portraits, expect a relaxed session with professionally edited photos and proofs. Rates are determined by event or session, so reach out for more information. Donuts may or may not be accepted as currency. (They're not -- but I'll give them a good home!)

I hope our paths cross soon. Please contact me for prints, questions and anything else, or even just to say hello! (Hello!)
What's in a Name?
Why plusjames? Because it's more than about me. It's about you and your story because it's important. So how are you? What's going on?
You + James = Awesome. That's it. Really.
Powered by bowls of soup and bubble tea, I sharpened my media skills during college and pursued design and journalism full-time after graduation.
Here's a little bit more about me in a really small pecan shell... Few things can fill my heart like a scoop of Blue Bell, a Houston barbecue, a stuffed snowball from Ms. Mae Mae's, and a handful of Filipino egg rolls. You should say hi sometime, I'll say hi back and give you a high five. Or a low five.